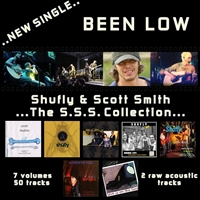 Scott Smith & Shufly – The S.S.S. Collection
BLACK FRIDAY WEEKEND SPECIAL . . . The BEST Value. All 50 songs PLUS 2 bonus tracks for ONLY $15!!! (REGULAR PRICE on iTunes $49.50!)
Description
The S.S.S. Collection is a compilation of (S)hufly and singer/songwriter (S)cott (S)mith writings and recordings containing 50 tracks over 7 discs spanning 15 years of music (1997-2012). Shufly Favorites, Different Recordings, Never-Released Tracks, Brand New Songs… you'll find them all here. Enjoy!
CD #1 includes the early recordings of 4 Shufly tracks when the band went by the name "Cousin Bluebone."
CD #2 (Shufly Gold) – containing 10 tracks plus an additional 3 ghost tracks – and CD #3 (Shufly Black) – containing 5 tracks – are the 2 CD's they gained notoriety from. Track #3 on Shufly Black – "Missing" which singer/songwriter Scott Smith wrote about his son – was featured in CBS Primetime Show "Cane" in Season 1, Episode 7.
CD #4 has 7 Shufly favorites recorded reel-to-reel by Sean "Birdman" Gould.
CD #5 contains 9 never-released & Shufly reunion songs, 6 produced by Tom Dowd.
CD #6 has 8 songs from Scott's solo career and the album "Hydrate You."
And the last 4 songs – on CD #7 – are from his last EP, "Love Is On The Line" with 2 tracks being acoustic recordings of "Love Is On The Line" and "Hallelujah."
***SHUFLY – lyrics and music by Scott Smith; music by Mike Sharpe.
Band Members – Scott Smith, Mike Sharpe, Matt Coogan, Mandy Rua, Mario W Palacios, Paul Votteler.
***SCOTT SMITH SOLO SONGS – lyrics and music by Scott Smith.
Song "Right Here" – lyrics and arrangement by Scott Smith; music by Diego Larranaga.
LISTEN TO SAMPLE 20-SECOND CLIPS OF MOST OF THE SONGS BELOW